Biagetti's has been a family owned business for generations.
Continuing the tradition of great food, large portions at reasonable prices and exceptional service.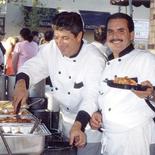 Owners Richard, Linda and Robert have been dedicated to presenting
one of the most innovative Italian menu on the Connecticut shoreline.
Enjoy an upscale yet comfortable setting in West Haven at Biagetti's,
a restaurant that represents fine Italian dining with great food. The owners of Biagetti's pride themselves
on using locally grown fresh ingredients to create the best Italian cuisine available to their patrons to make the menu one of the best Italian menus.
 We look forward to seeing you at Biagetti's!
Richard, Linda and Robert
Tuesday  thru  Saturday   4PM – 8PM
Sunday 1PM – 6PM

**During this time, here at Biagetti's , we will be operating take out with curbside pick-up  during our open hours.



PLEASE CALL 203-934-7700




We are committed to doing our very best to serve our community and to ensure the safety of our customers and employees. We will continue to monitor the guidelines and recommendations with the state while always prideful of our cleanliness ; we are taking extraordinary measures in our cleaning and sanitizing procedures in all areas.




We thank you for supporting our business and please keep on supporting all local businesses in our community.




Thank you for your patronage,




Sincerely;




The Biagetti Family



biagettis@att.net

Call for reservations for parties of 6 or more.
203-934-7700